Published on NewYorkCool.com.

It's easy to see why Alfred Hitchcock was inspired to invite Albert Watson back home for tea after Watson finished his first photo shoot with the famed movie director. Watson's jovial attitude and true passion for what he does is exhilarating. And Albert Watson's private opening reception for his first solo show in New York at 401 Projects certainly had a packed house. The Scotsman himself was in attendance for the exhibit of thirteen of his eight foot by six foot prints (shot with an eight by ten camera) plus hundreds of never-before-seen Polaroids.

The larger-than-life prints highlight Watson's distinct quality of design and printmaking and the choice of subjects certainly tells a story about his jet-setting lifestyle. Three of the prints are from his Las Vegas Series. Others peek at the time he spent in his home in Marrakech. And of course, there was the infamous image of Mick Jagger's face fused with that of a leopard. Watson's thirty-five year career as a fashion and commercial photographer, shooting celebrities for magazines such as Vogue and Rolling Stone, seems like an afterthought after seeing these portraits. They are pure adrenaline.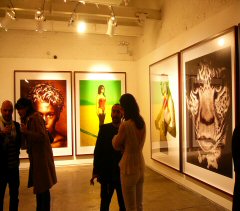 401 Projects opened its doors in April with a show by Mark Seliger, co-founder of 401 Projects and a fashion photographer for magazines like Vanity Fair and GQ. Seliger wanted to bring together the large community of photographers in a non-commercial space that he hopes will be a place to learn, socialize and inspire. Every show will be coupled with a lecture series by the artist. Albert Watson will personally talk about his photographs on Thursday, June 8th, 2006 at 7:00 p.m. Admission for the lecture is $5 and is free to members of The Camera Club of New York.
401 Projects is located at 401 West St, between Charles St. and West 10th St., and is open Wed.-Sun. 12:00 to 6:00 p.m. For more information, log on to www.401projects.com.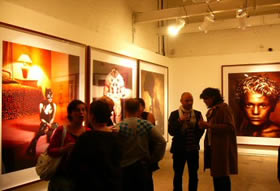 Copyright 2006Christina M. Hinke. All rights reserved. This material may not be published, broadcast, rewritten or redistributed.