Published on NewYorkCool.com.

by Christina M. Hinke
NewYorkCool.com
November 2005


Intertwined between weeds and closed meatpacking plants, the 1.45-mile High Line rises above the Meatpacking District at Gansevoort Street and crosses twenty-two blocks to 34th Street. A train has not run along the tracks of the High Line for twenty years. But in 2007, the public will have a new outdoor park to run, walk or just take in the Hudson River views, thanks to the Friends of the High Line, a group formed in 1999 to preserve the remaining High Line. (A five-block long southern piece of the Line was demolished in 1991).

On display at an unused meatpacking plant at the southern end of the High Line, is the art exhibit, "The Plain of Heaven", which was developed by Creative Time (the organization responsible for the two beacons of light near the World Trade Center). The exhibit was inspired by the redevelopment of the High Line and includes works by fourteen artists with the central themes of destruction and rebirth, the opposition between nature and the urban environment, and the need for open spaces.
Highlights of the exhibit include "Nowhere and Everywhere at the Same Time," a dance performance created by the director of the Ballet Frankfurt, William Forsythe, and performed by one of his students. Forsythe developed the dance after speaking with a blind man and learning how this man conceives space without sight. His student closes his eyes and weaves in and out of a series of weighted strings suspended from the ceiling. Photographer Shannon Ebner displays "Exit Glacier," one photo cut in half and printed on newsprint. Ebner says the photo was inspired by Alaskan glaciers and how "icebergs had been melting at an increased rate, and glaciers are actually exiting."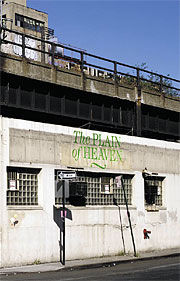 Other artists include Adam Cvijanovic, Song Dong, Trisha Donnelly, Leandro Erlich, Sol Lewitt, O. Winston Link, Gordon Matta-Clark, Sorey McCorkle, Helen Mirra, Saskia Olde Wolbers, Adam Putnam, and Paul Ramirez Jonas. "The Plain of Heaven" is on display until Nov. 20, 2005. Artist talks take place Saturdays at 2:00 p.m. For more information visit www.thehighline.org and www.creativetime.org.
820 Washington Street Fri.-Sun., 12:00 p.m. to 6:00 p.m.
Copyright 2005 Christina M. Hinke. All rights reserved. This material may not be published, broadcast, rewritten or redistributed.