Interview by Christina M. Hinke
Publishers Weekly
Oct. 6, 2008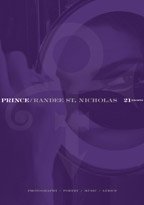 In 21 Nights, the first-ever book by Prince, photographer Randee St. Nicholas follows the musician during his 21 sold-out shows at the O2 arena in London last year, and unearths Prince's introspective side.
How did this book come about for you?
I had four other book offers, but didn't want to do them. When Prince asked me I said, "OK." He said to me, "I want to do a book together, come up with an idea." I said, "You're going to be in London for a period of time playing 21 nights, I think we should do it about this time in your life, instead of doing a retrospective of the photographs we've done over the years. It's a very important time for you, and the music industry, to show that one artist can perform and sellout 21 nights in one city to 24,000 people a night."
How did you plan the shoot?
I set up my equipment and lights all over the place, so wherever he would come to I would be ready to shoot, that was the approach. I am not a candid photographer; even my pictures of him performing live don't look candid. It was candid in the sense that there was no plan for what he was going to do or what he was going to wear. It was very stylized, but it's not some glamorous way of making him be a certain way. It was really what I witnessed and experienced, but I wanted it to have an editorial fashion twist to it because his fashion has been a very big statement along with his music. It's very much like being on tour with Prince for a month, and it's very different than what [fans] would expect it to be.
What do you think the fans expect?
I think that they think that Prince parties all of the time. And there is that amazing side to him. He has a home in Los Angeles with a club in the basement and he performs there for his friends, and has intimate dinner parties. He is a very social guy, but actually I think he's very introspective and I think that shows. He spends a lot of time on his own. The book is mostly the private moments when he wasn't performing. I don't think people have seen that before. He has also taken a different direction in his spirituality.
What kind of direction?
He's been evolving in all sorts of ways musically, spiritually, as an artist, as a man, as a human being. Because people think of him as Prince, the purple magistrate, they forget that first and foremost, before being a man, there's an incredible artist in there who is forever changing and growing. He's one of the smartest people I know, and I have met a lot of really bright people in my life, and he's open, funny and he's fascinated with life, he's forever learning. What I see in him is an incredible evolution, and I think he and his spirituality are right there evolving with everything else about him. The only thing that hasn't changed is he looks the same. At 50 he looks the same as when he was 18 or 19. He needs very little retouching.
Is he always dressed to the nines?
You don't see him in jeans and a T-shirt, and then go on stage dressed as Prince. That's how he dresses, that's who he is 24 hours a day. He is exactly who he is all the time.
See Randee's work at: http://www.randeestnicholas.com/
Copyright 2008 © 2008, Reed Business Information, a division of Reed Elsevier Inc. All Rights Reserved. . All rights reserved. This material may not be published, broadcast, rewritten or redistributed.